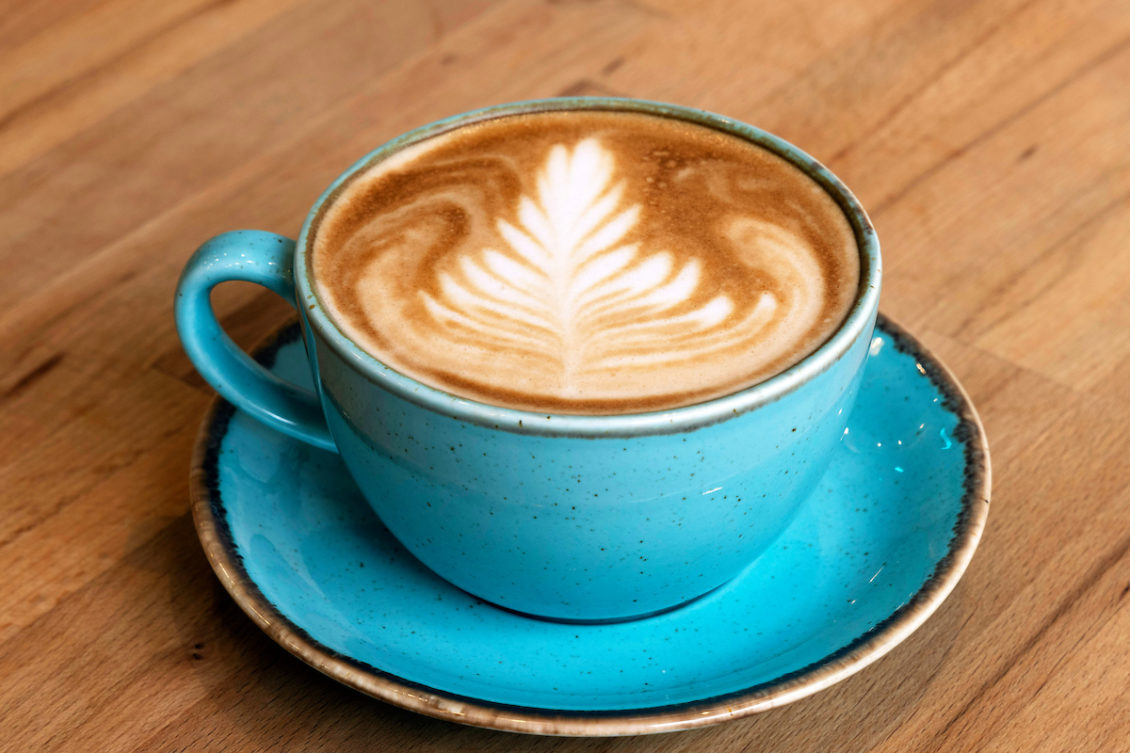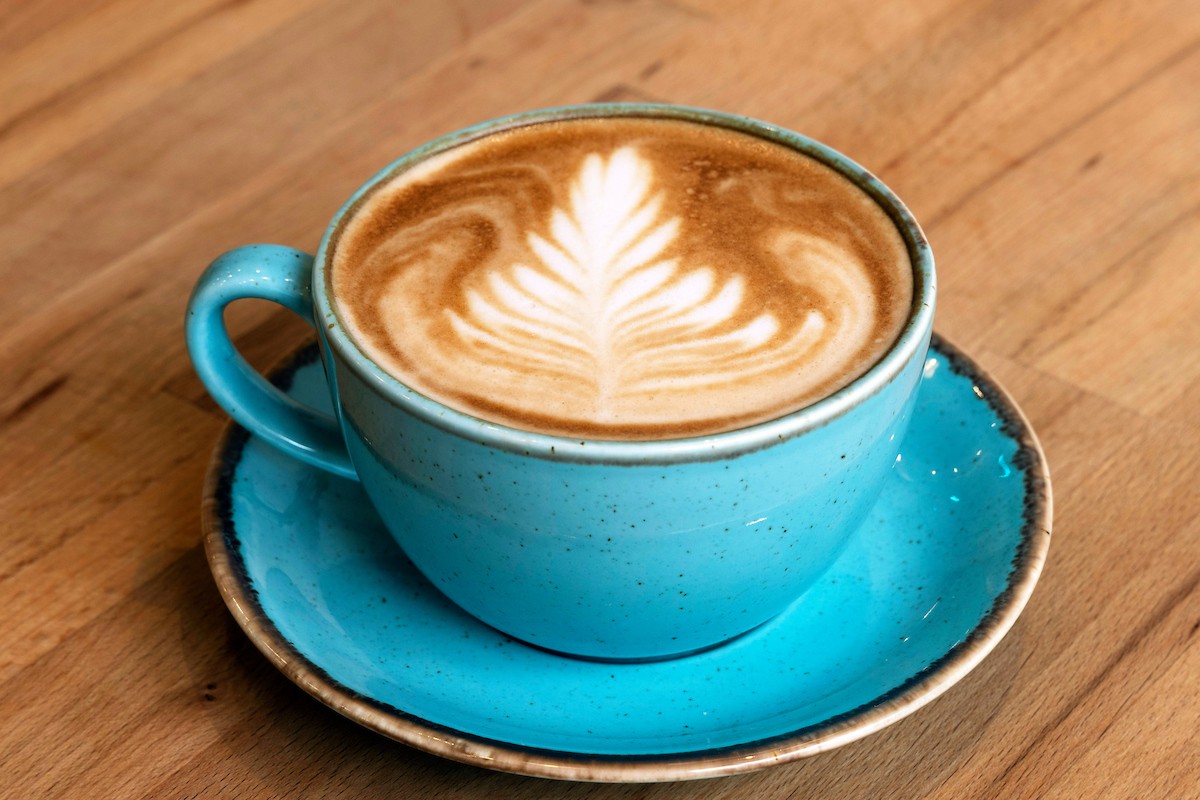 Licensed to Latte
We're not often given a free pass in life. So when a recent blood test indicated a mild calcium deficiency, I took this as a sign that my favourite coffee serve, the Latte, could actually be medicinal and, possibly, a matter of life and death.
Reported to be the UK's favourite coffee, the Latte has its origins on the breakfast tables of Europe. Depending on where you are from, this soothing drink is roughly 1/3 espresso and 2/3 whole milk and, for decades, has been the ideal "at home coffee" to line your stomach for the day ahead.
My first real Latte was a memorable moment. I'd arrived in Venice in the dead of night, lugged my belongings across the Piazza San Marco in the dark (rookie mistake, my unworldly 21 year old self didn't reckon on there being no taxis in Venice), checked in to my hotel and promptly fell asleep. In the morning, I awoke in a different world. A world with faded painted murals, marble stairs and golden twinkling chandeliers – and that was just the breakfast room. Venice was opulent. On what was essentially my first grown up solo dining experience, I sat down at a window table and was promptly served up a caffé latte. I peered out of the ancient lead-lined window pane across a cityscape of burnt orange domes and spires, and drank this sweet, milky coffee. I was forever hooked.
Every latte I drink can take me back to Venice in an instant. A moment of freedom, and wonder, in an otherwise challenging world.
Like everything in coffee, there are some technical disagreements about how the drink should be made. The Latte that many of us know from the big chains is a larger serve than you would ever get in Italy. But don't be fooled, it doesn't mean your coffee is being watered down by milk. A large latte will contain at least 2 espressos and, in some places, maybe even as many as 3. This amount of coffee is not for the faint hearted and it's certainly not weak, just considerably less bitter thanks to its union with the sweeter milk.
The Latte continues to evolve. There are now dedicated hashtags on Instagram celebrating the drinkable works of creativity, otherwise known as Latte Art. It is the mark of barista perfection.
Where else, for a couple of quid, can you buy drinkable art that also has medicinal qualities? That's good enough for me and my calcium deficiency. Latte, please!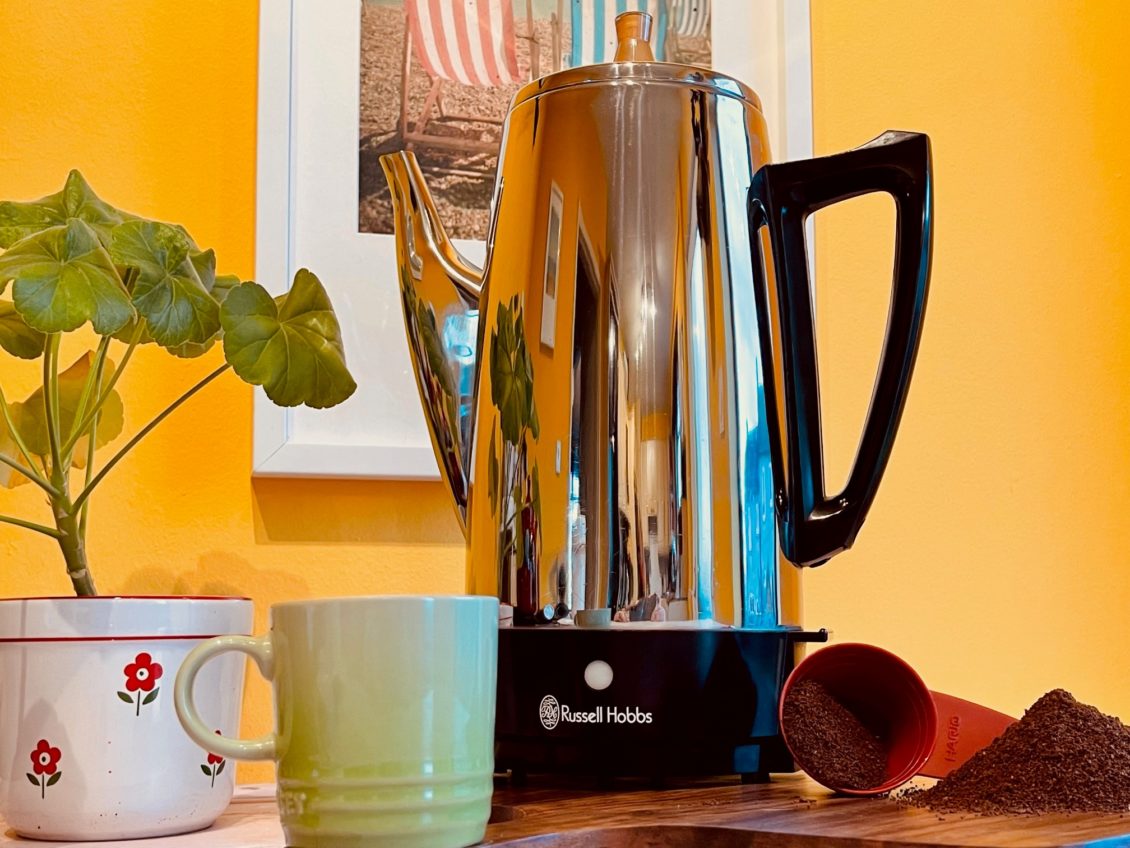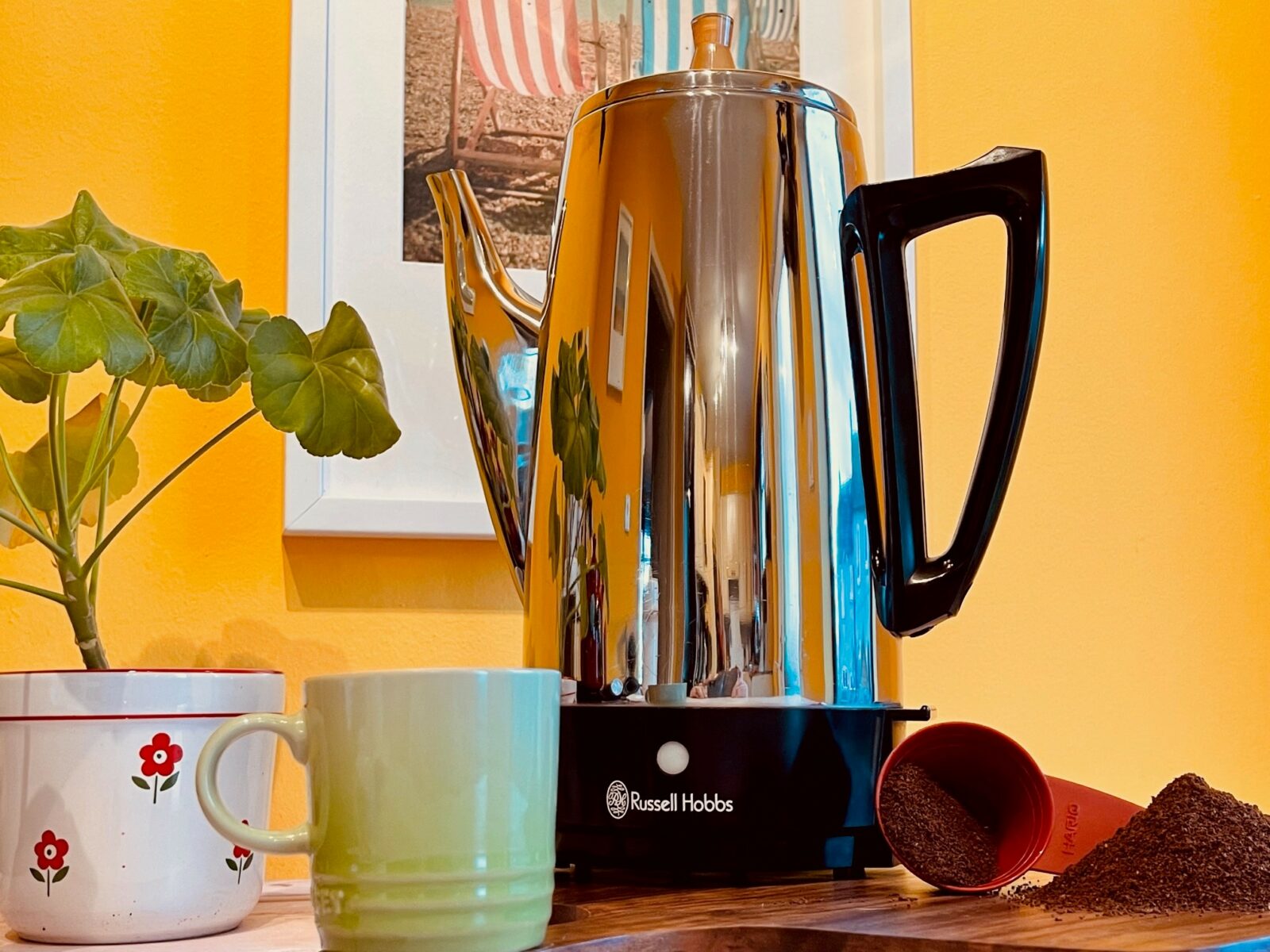 There's something about January which raises hopes and stirs the senses. New plans, new places to discover and, for me, new coffees to try.
Right now, I'm sitting here sipping on a rather nice single origin Mexican roast from Dundee's newest roastery, Brewery Lane. This medium roasted coffee is made from organic beans from the cloud forest biosphere reserve in the Chiapas region in Mexico and fully delivers on its promised tasting notes of caramel, chocolate and hazelnut, which combine to make a delightfully enjoyable coffee.
But it's not all 'out with the old, in the with new'. Taste and smell are powerful sensations and can evoke memories and emotions well beyond their moment in your mouth.
Take, for instance, our long-awaited Christmas trip to the in-laws. Coffee on Boxing Day morning took an interesting turn when my Father-in-Law, knowing I liked coffee, disappeared deep into a kitchen cupboard and resurfaced, proudly brandishing his Russell Hobbs coffee percolator.
Percolated coffee was high fashion in the dinner party decade of the 1970s. I remember both my parents and grandparents had percolators and just seeing it on the kitchen worktop brought back a flood of memories from past festivities.
Although you can still buy them, the percolation coffee brewing method has fallen out of favour. Purists point out that the percolation process regurgitates the coffee through multiple extractions, and results in bitter, over-brewed coffee.
A cross between a stove-top coffee maker, a kettle and a modern drip decanter, the percolator is a complicated hybrid.
My Father-in-Law, Mike, has got his coffee percolation methods honed to a fine art and, after showing me how it all worked, set about creating my Boxing Day brew.
Once switched on this gurgling and burping contraption belched its way into steaming hot coffee. Swirled into hot milk, it created a rich, smooth and slightly more syrupy coffee experience than you get with modern brewing methods.
The percolator was knocked off its perch with the evolution of instant coffee in the 80s, however the market shift was probably more to do with convenience than with taste. Like all good coffee brewing methods, percolation takes time, patience and a commitment to the process. And it's the process that creates the memorable moment. This decades old percolator doesn't just make coffee, it conjures up memories of dinner parties with friends, family gatherings and special occasions. Who wouldn't want a special vintage coffee making contraption in their house that did just that?
Brewery Lane Coffee: www.brewerylanecoffee.co.uk
Vintage Russell Hobbs Coffee Percolators: Available in charity shops and on second-hand auction sites for as little as £15.
Article First Published in The Menu Magazine on 8/1/22 in The Courier and Press & Journal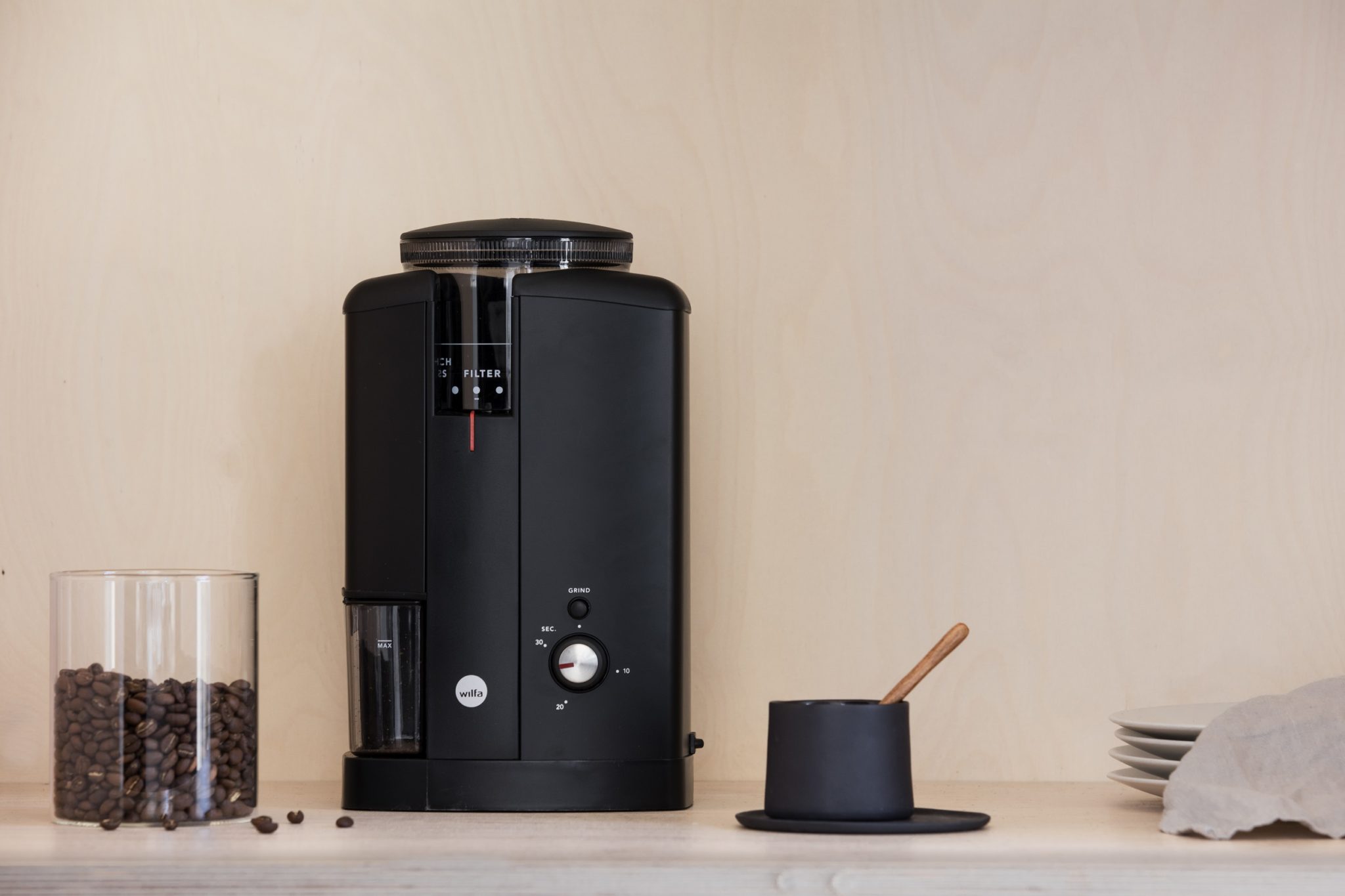 I've been trying to decide if coffee brings out the perfectionist in me, or whether it's the combination of the pandemic and too many cups of the caffeinated stuff has heightened my anxiety.
You see, there's a distinctive noise that my Wilfa Svart coffee grinder makes when it runs out of beans, signalling to me that the coffee is ground and ready to brew. My husband, however, likes to load it with beans, and then leave some in it, unground. It's this haphazard bean abandonment that's making me a little bit twitchy.
The perfect cup of coffee is all about measurement. Weighing (yes, weighing) the beans to get the perfect serve, honing the grind and measuring the right amount of water into the coffee maker. For perfectionists, this is nirvana. Every. Single. Stage. Must. Be. Right.
Failure in any one of these critical steps can lead to, well, a less than perfect cup of coffee.
But I've never been one for following rules so the coffee grinding twitchiness is a new sensation. The Wilfa is not my first grinder. My first was, I'm slightly ashamed to admit, a cheap cylindrical object I bought on Amazon and gifted to the aforementioned husband for Christmas. What's his is mine, right?
It was fun while it lasted. The grinder, not the husband. The blades eventually carved a considerable groove in the metal-casing. Goodness knows how many tiny shards of tin we've consumed as a result. You are duly warned.
When it came to purchasing the next grinder, I was wiser. The beautiful Wilfa Svart came into my life just shortly afterwards with all its lovely burrs, buttons and bean hopper. It grinds for every type of coffee maker, from cafetieres to espresso machines, with some grind finessing options in between. Because, when it comes to making that perfect cup, a quality grind reigns supreme. You can have the very best espresso machine but, with a poor grinder, your brew will ultimately suffer.
For me, grinding is the whole fun of at home coffee making. You get to take the whole bean and grind it down to size, ready for extraction in whatever method you deem necessary. It's what makes you the coffee chef. Master of the ingredients. Queen of the bean.
And, for those last-minute gift purchasers like myself, if you order quickly, you'll get it in time for Christmas.
Wilfa Svart Grinder: Available Online, priced from £89
Article First Published in The Menu Magazine on 11/12/21 in The Courier and Press & Journal